Turmeric is beneficial for our skin in more ways than one. The age-old ingredient turmeric is loaded with antioxidants and anti-inflammatory components which helps in treating a number of skin issues like acne and acne scars, early signs of aging, pigmentation, and sun damage, and many more.
This easily available golden spice gets its skin-enhancing properties mainly from the curcumin compound which it inherits, Curcumin is an active component that provides glow and luster to our skin. From acne to stretch marks and psoriasis, turmeric is a magical ingredient for our skin.
Here are some of the incredible benefits of Turmeric for skin
Treats Acne
Acne is one of the most commonly annoying skin issues that need special care and attention. Over-the-counter prescriptions or skincare products for acne treatments tend to sometimes cause irritation or inflammation especially when you have sensitive skin.
While out there are a zillion treatments for acne, natural ingredients are one of the safest bets.
One of the magical ingredients that help fight acne is turmeric. Its antiseptic and anti-inflammatory properties benefit your skin by keeping bacteria from spreading and by reducing the redness and swelling of the blemish.
Removes Dark Circles
The most common reasons behind the occurrence of dark circles are hereditary, pigmentation, over-exposure to the sun, lack of sleep, and even scratching or rubbing the eyes. Waking up to those pesky, tired-looking bags under the eyes is a big put-off. Luckily, we are blessed to have turmeric at our rescue!
As turmeric is an anti-inflammatory and lightening agent, it benefits the skin by reducing the appearance of dark circles. And that's not all! It also stimulates circulation which results in reduced puffiness.
Fades away scars, marks, and blemishes
The worst thing more than breakouts is the marks and scars they sometimes leave behind which tend to take days to heal. Thanks to turmeric and its anti-inflammatory capabilities, we don't need to burn a hole in our pocket to treat those stubborn acne scars or pimple marks. You'll be pleased to know that turmeric benefits the skin by minimizing the appearance of scars. Curcumin is the main active ingredient in turmeric which has strong and powerful antioxidant and anti-inflammatory properties. Curcumin is the one that helps reduce excess production of melanin which in turn lightens scars and keeps even the skin tone.
Moisturises dry skin
Dryness tends to make our skin look dull and dehydrated. And, this problem generally gets worse during the winter months because the cold winds tend to make our dry skin look drier. Moisturizing enough all through the day using a rich body lotion would not help us alone, it is also important to give our skin extra. Were you aware of the fact that turmeric benefits the skin by alleviating symptoms of dryness? This magnificent ingredient which is found in almost every household – deeply hydrates and nourishes the skin and speeds up the dead skin cells removing process.
Prevents early signs of aging
Turmeric benefits the skin by preventing it from sun damage and by protecting against early signs of aging. The harsh UV rays are the top most common cause of premature aging.
When the natural oils present in the skin are depleted, it results in losing elasticity and starts showing fine lines and wrinkles. Signs of premature aging first tend to show up on our neck, forehead, and around our eye area. The curcumin element present in turmeric consists of strong antioxidant properties that prevent free radical production which in turn controls aging by protecting skin cells against damage.
Reduces the appearance of stretch marks
Although no one talks about stretch marks frequently, 80 percent of women have them. Those pesky little lines are extremely difficult to treat but not impossible. Turmeric helps in lightening the stretch mark.
As it is loaded with powerful antioxidants, it penetrates and improves the function of the membrane cells which fades and lightens the appearance of stretch marks.
Fights off severe skin conditions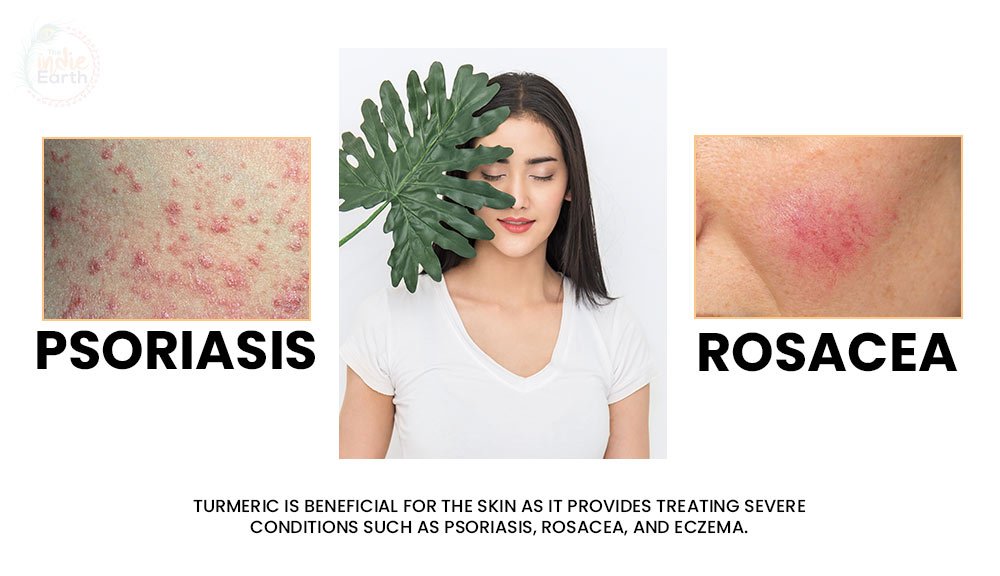 Turmeric is beneficial for the skin as it provides treating severe conditions such as psoriasis, rosacea, and eczema. Its anti-inflammatory and anti-bacterial properties do wonders in treating even the trickiest of skin conditions. The cooling properties present in turmeric help reduce redness from blemishes and calm down the inflamed and irritated skin.
Helps in Tan Removal
Turmeric is an amazing remedy to get rid of suntan. Being loaded with antioxidants and their anti-inflammatory properties it can help to calm the redness, reduce the appearance of scarring, brighten skin. This powerful herb can lighten up your skin tone, hence removes tanning.
The Indie Earth Good-Bye Tanning range contains turmeric as a key ingredient, which helps the users to treat tanning naturally.
Closing Words
Turmeric is used for its healing and cosmetic properties. It contains curcumin which is a bioactive component that possesses anti-inflammatory and antioxidant properties.
For over several hundred years Turmeric has been a part of most skincare products. It is a powerful gift from nature to mankind. If you want to experience the real power of nature and the gifts like turmeric, switch to herbal formations.
The complete range of The Indie Earth products is formulated using premium quality and handpicked herbs, essential oils, and extracts. Most importantly, the products are free from any kind of harmful chemicals such as paraben or SLS.