The Indie Earth Goodbye Tanning (Skin Lightening) Facewash with Turmeric, Sandalwood and Kumkumadi Tailam (200ml) Removes Tanning, Uneven Skin Tone, and Sun Burn
You Save: $4.00 (17%)
MRP:
53 sold in last 3 hours
Helps in treating sun tanning
Gives noticeable glow
Cleanse skin without stripping natural moisture
Provides brighter and radiant skin
Can improve uneven skin tone
Can visibly smooth rough skin texture.
Estimated Delivery: Dec 13 – Dec 17
... people are viewing this right now
---
Description
The face wash is enriched with
Turmeric, Kumkumadi Oil, Sandalwood
Lightening
When our skin is exposed to Sunlight, it is bound to experience tanning and dullness. Eventually, the skin becomes darker and patchy. The Indie Earth Goodbye Tanning (Skin Lightening) Facewash is specially formulated to treat the tanning and dullness of the skin while forming a protective layer to protect your skin from further damage.
Why should you use Goodbye Tanning Facewash?
100% Original
100% VEGAN skincare product
100% Made from premium herbs, oils, and extracts
What happens when you use this Facewash?
• Helps in treating sun tanning.
• Gives noticeable glow.
• leanse skin without stripping natural moisture.
• Provides brighter and radiant skin.
• Can improve uneven skin tone.
• Can visibly smooth rough skin texture.
The face wash is enriched with Turmeric, Kumkumadi oil, sandalwood along with many more oils and extracts that help treat tanning of the skin.
Each Ingredient is authentically handpicked
to ensure the highest quality standards.
Turmeric
This wonder-food is antioxidant-packed turmeric is just amazing for all kinds of skin problems. Its anti-inflammatory properties can help calm redness, reduce the appearance of scarring, brighten skin. This powerful ingredient can lighten up your skin tone, hence removes tanning.
Sandal Wood
The natural oils present in sandalwood help to get rid of a suntan. It also helps to soothe sunburn and has a cooling effect, reducing the redness caused due to a sunburn. Because of its anti-inflammatory properties, it also helps to treat any burning sensation or itching due to sunburn.
Kumkumadi Tailam
It is helpful to improve skin texture, complexion, and can also relieve skin problems such as acne, scars, etc. It relieves blemishes, suntans, acne scars, pimple marks, and so on.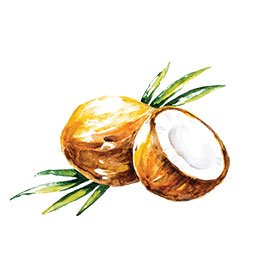 Tender Coconut Water
With its richness in vitamins and nutrients, it helps with collagen formation and promotes hydration balance. It acts as an anti-inflammatory, detoxifier, and antimicrobial that works to decrease incidences of acne.
Liquorice Root Extract
It is best known for its natural ability to decrease hyperpigmentation and brighten the skin. It works to lighten dark spots and stops melanin production and targets the free radicals. It helps overall skin tone and clarity since it breaks melanin.
Orange Peel Extract
It helps to form collagen and elastin. It makes the skin youthful and bright and helps to unclog pores and reduces blackheads. It helps even and lightens the skin tone. It reduces pigmentation, acne, scars, and marks on the face.
How to use Goodbye Tanning Skin Lightening Face Wash
STEP #1
Take out the desired quantity on the palm of your hand.
STEP #2
Apply it on damp skin and massage for a minute or two.
STEP #3
Wash it off, with plain water.