The Indie Earth Goodbye Tanning Face Cream
You Save: $4.00 (16%)
MRP:
38 sold in last 3 hours
Helps in getting an even tone.
Helps in lightening and brightening the skin up to 2 shades.
Helps in lightening the blemishes and dark spots.
Helps in protecting skin from UV rays.
Estimated Delivery: Dec 13 – Dec 17
... people are viewing this right now
---
Description
This cream is loaded with
several wonder gems of
Nature
Such as Saffron, Sandalwood, Rosewater, Kumkumadi Tailam, and many more, which makes it powerful enough to help you get glowing, even-toned, and clear skin.

This cream is also a sunscreen that forms a protective layer on the skin to give it a shield from harsh sun rays.
Why should you use Goodbye Tanning Face Cream?
100% Original
100% VEGAN skincare product
100% Made from premium herbs, oils, and extracts
What happens when you use this Face Cream?
• Helps in getting an even tone.
• Helps in lightening and brightening the skin up to 2 shades.
• Helps in lightening the blemishes and dark spots.
• Helps in protecting skin from UV rays.
Sunscreen Cream – The Indie Earth Goodbye Tanning Face Cream is formulated to help you get lighter skin shade, give you even skin tone and help you reduce dark spots and blemishes.
Each Ingredient is authentically handpicked
to ensure the highest quality standards.
Aloe Vera Leaf Extract
Aloe Vera helps by forming a protective layer of the skin. It helps to retain moisture, unclogs the pores, and softens the skin. It has anti-aging, antimicrobial, and anti-inflammatory properties. It helps to eradicate skin blemishes and also diminishes age lines.
Orange Peel Extract
It helps to form collagen and elastin. Eventually, it helps in making the skin youthful and bright and helps to unclog pores and reduces blackheads. It is also helpful to even out and lightens the skin tone, reducing pigmentation, acne, scars, and marks on the face.
Liquorice Root Extract
It is best known for its natural ability to decrease hyperpigmentation and brighten the skin. It works to lighten dark spots and stops melanin production and targets free radicals. It helps overall skin tone and clarity since it breaks melanin.
Manjistha
It helps in reducing uneven pigmentation and improves skin complexion. It is a cooling herb and can be used for several skin conditions like traumatic wounds, acne, blemishes, and darkened skin.
Rose Water
A wonder potion for the skin. A natural toner with softening effects. It's a natural astringent that helps in restoring the skin's pH level and shrinks the open pores. It is simply great for all type of skins.
Saffron
Kesar (Saffron) helps in enhancing the natural skin tone and glow. It can improve blood circulation to your skin, thus may keep your skin firm. Its antioxidant properties can help prevent acne.
Sandalwood
It helps in skin tightening leading to minimizing signs of aging like wrinkles and fine lines. It also helps in fighting acne-causing bacteria, exfoliating the skin, soothing sunburn, and removes suntan.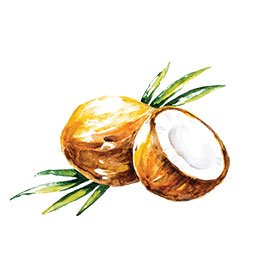 Tender Coconut Water
With its richness in vitamins and nutrients, it helps with collagen formation and promotes hydration balance. It acts as an anti-inflammatory, detoxifier, and an antimicrobial which work to decrease incidences of acne.
For best results, use the Face Cream regularly!
How to use Goodbye Tanning Face Cream
STEP #1
Apply liberally twice a day to freshly cleansed skin, start from the neck & work your way up to the face & forehead.
STEP #2
Massage in an upward motion until the cream gets completely absorbed into the skin. Avoid direct contact with eyes.